In this article we will try to explain a bit more about what the river / rapids classes are, and which ones are the best for you!

When considering doing Rafting on a new river, there are a couple considerations we should think about: Is the company trustworthy? Are the professionals well equipped and trained?

What level/ class of rapids should I aim at?
Let's take a look to all the 6 rapid classes that exist:
Class I - Easy
This category of Class I easy is characterized by fast flowing water with very few riffles and small waves. The rivers exhibit minimum impediment and less risk to swimmers. Examples of such rivers include Black River, Carp River, and Drag River. In this category the risk to swimmers is light and self rescue is easy.
Class II - Novice
Under this category of Class two Novice, the Rapids are straight forward with moderate difficulty characterized by small waves and some obstacles. The river can be maneuvered with a little difficulty. There are some few rocks with medium sized waves which can be avoided easily by the trained paddlers. Swimmers are hardly injured, though group assistance is helpful it is hardly needed. Examples include Irvine River, Mississippi, Ottawa River, and Salmon River.
Class III - Intermediate
Class III Intermediate is characterized by rapid with moderate, irregular waves which may prove difficult to avoid. Powerful currents may also be found especially in the large-volume river. Examples include Head River, Crower River, and Moore's Creek
Class IV - Advanced
Class IV advanced is characterized by intense, powerful rapids which are predictable and requires precise boat handling. Large and unavoidable waves and holes may characterize the river and may also constrict the passage. Examples of such rivers include Black River and Spencer Creek.
Class V - Expert
Class V advanced has rapids characterized by longer rapids with dangerous rocks and boiling eddies. The route is difficult to maneuver and may require precise and powerful canoes.
Class VI - Extreme and Exploratory Rapids
Class VI Extreme and Exploratory Rapids are unraftable Rapids because of the extreme difficulty and unpredictable dangers. Runs in this class are runs are hardly attempted because a slight error could be disastrous and rescue might be impossible. An example of Class VII is river Zambezi on the border of Zimbabwe and Zambia at Victoria Falls
Source: www.worldatlas.com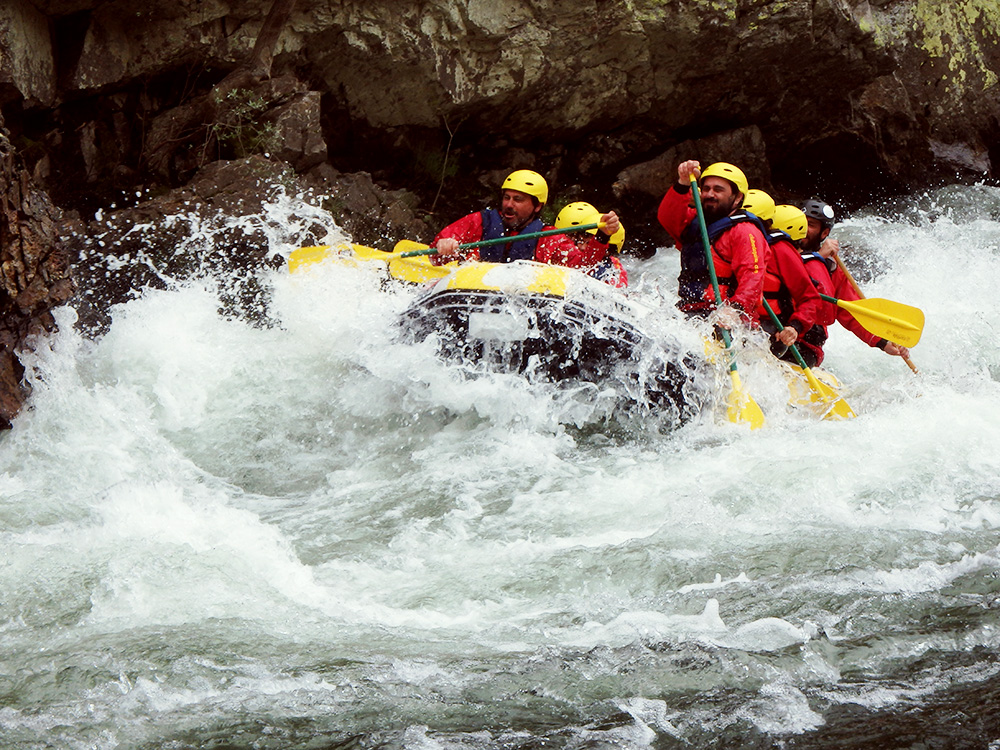 Is also important to know that there can be massive differences between two rivers of the same class. For this reason, Going with professionals with experience on a specific river is of essence.
The characteristics of a river can change a lot depending on the water levels aswll, some calm and relaxed stretches become more turbulent with heavy rains, and the opposite can also happen, when a specific aare is a bit dull but becomes great for rafting with a little bit more rain. Again, knowing the terrain like the palm of your hand is part of the secret for a great rafting day!
For all of these challenges, you need a good guide that can make your trip extra safe!
Their training includes skills such as:
Teamwork and leadership skills
Safety on the river - hand signals
Boating gear and equipment
Commercial river operations
Customer service - safety talks and guide "chatter"
Whitewater paddling techniques
River etiquette guidelines
Problems, emergencies, advanced river rescues
Knots and riggings
Natural and the local history of the river
Meal Preparation
So, Do you already know what your level should be?
If you are coming to Porto, Rio paiva is the best river to do white water rafting in Portugal, is close to Porto, and is a great river for beginners or experts alike because of its range.
You can have all kinds of rapids, but the types I/II/III in this river are great for beginners!
Meitriz-Areinho (Class I/II)
Areinho-Vau (Class V/VI)
Vau-Espiunca (Class III/IV)
Espiunca-Travanca (Class II/III).
Want to have a great Rafting experience? Learn here more about the tour:
Liked our article? Please share it using the icons bellow!