Transportation: Pick up only included
ABOUT SUN, SEA & SURF TOUR
Come and enjoy a great day with us at the beach! Sun, Sea, and lots of fun on the Surfboard!
We provide pick-up service from one of our meeting points in downtown Porto, a friendly and local surf instructor, and high-quality wetsuits and surfboards. We provide all the necessary equipment.

The Porto beaches have the advantage of being one of the best for beginners in Europe, so if this is your first time, we got you covered! Our Incredible guides will make you feel at home and will feed you positive vibes during the whole day!

After the activity, we offer you a nice and warm shower followed by a relaxing time in our lounge area, where you can enjoy the sun or just breathe in the fresh beach air!

We don't provide drop-off service so you can relax all the time you want on the beach! You can use good public transportation (500 BUS, Metro) or a car service like Uber to return. Don't worry; it's very easy and our guides can help you!

*this activity is only for groups with a minimum of 8 participants*


SURF TOUR HIGHLIGHTS
Pick-up service in downtown Porto;
We adapt to your experience! If it's not your first time, we give you a bit more freedom! If it's your first time, our instructors have the patience and the knowledge to help you in your "surf baptism."
Wetsuits and boards are included.
It Just takes half a day!
You get to know Portugal's world-renowned conditions for surfing on our coast!
The great pleasure of being connected! There is nothing like riding the waves! Watch out – it can become an addiction.
A lounge area you can use after the class to relax and enjoy the beach! After the class and the warm shower, you get more time to enjoy this beautiful place!
INCLUDED
Pick-up from downtown Porto
Insurance
Surfboard and equipment
Professional guide
Lounge area for relaxation after the activity
In the bar: 15% discount on a meal (vegetarian or fish) and WiFi
SEND US AN EMAIL IF:
You need additional information/ to book
Your accommodation is not in Porto
You are in a large group or have a big family / or a small group
You are looking for a private/tailor made tour
If you don't want to make a reservation by credit card.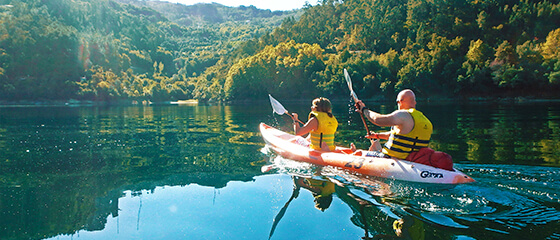 LUNCH INCLUDED

10 HOURS

PICK UP & DROP OFF INCLUDED
KAYAKING IN PENEDA-GERÊS NATIONAL
PARK
Kayak in the Caniçada reservoir and start your day surrounded by stunning mountain landscapes! We provide you with a completely different perspective of the Gerês National Park with the right amount of fun…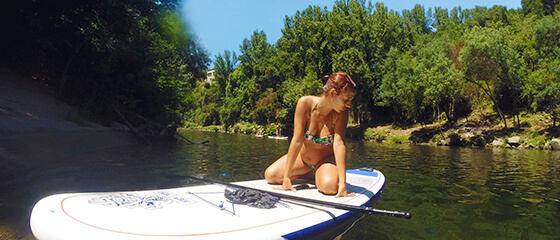 SNACK INCLUDED

5 HOURS

PICK UP & DROP OFF INCLUDED
STAND UP PADDLE BOARDING IN THE MOUNTAINS
Every Saturday, we provide a unique Paddle experience at one of the Douro River tributaries. This experience creates an intimate bond with the surrounding nature while at the same time being extremely fun!…