CANYONING IN PENEDA-GERÊS NATIONAL PARK
Transportation: Pick up & drop off included
Group size: Up to 7 people per guide
Equipment: We use only the best quality boots and equipment.
ABOUT CANYONING IN PENEDA-GERÊS NATIONAL PARK
Benefit from pick-up at your accommodation in Porto and then journey to the beautiful Peneda-Gerês National Park, known for its rugged hills and lush vegetation.

We love canyoning, and we know every river in Portugal. Gerês national park is definitely the right place to do it!
Connect with nature with a small group and Highly specialized guides trained to ensure your safety at all times.

Hike along the river beds and jump off – or abseil down – several different types of rock.

Take an alternative route if you don't feel comfortable rock climbing and jumping, and travel at your own rhythm without feeling rushed. Encounter a variety of lagoons, waterfalls and different landscapes of stunning beauty. End at a local restaurant to enjoy lunch (Not included).

Our commitment is to ensure you have the best comfort and security. Our guides update their certifications each year, our equipment is high-end, and our boots are ideal for this kind of activity. Fun is guaranteed.

CANYONING TOUR HIGHLIGHTS
This is more than just a canyoning day tour! The natural beauty of Gerês National Park is quite impressive.
Be hypnotized by the sound of the water falling down the river
The clear water of the spring allows you to take amazing underwater photos
Jump, slide, abseil and climb rocks(according to the height you feel comfortable with, there are always alternatives)
Get an adrenaline rush and experience a sense of personal triumph while connecting with nature
Benefit from the services of the best canyoning guides in Portugal
Connect with the natural surroundings
After the canyoning, we invite you to lunch in a local restaurant where you can meet the countryside people. It is a real opportunity to get to know our culture through food.
INCLUDED
Pick-up and drop-off at your accommodation
Special highly trained canyoning guides
The best Gerês rivers for the practice
Small group – up to seven people per guide
Contribution to the local associations that help preserve the local nature and culture
Underwater photos and videos of the tour
Canyoning special suits and helmets
The best boots in the market, comfortable and made specially for canyoning.
NOT INCLUDED
Lunch (but we stop at countryside restaurants and eat what the locals eat. You can eat and drink for around €5.)
SEND US AN EMAIL IF:
The day you want to book is not available
Your accommodation is not in Porto
You are in a large group or have a big family
You are looking for a private/taylor-made tour
If you are a single traveler
If you don't want to make a reservation by credit card.
FAST & SECURE PAYMENT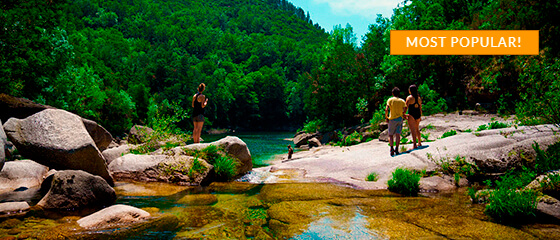 LUNCH INCLUDED

10 HOURS

Pick up & drop off included
PENEDA-GERÊS NATIONAL PARK TOUR
Trade the city frenzy for a unique experience! The Gerês national park is the single best spot in the country to Hike through stunning mountain landscapes, to see powerful waterfalls and crystal clear…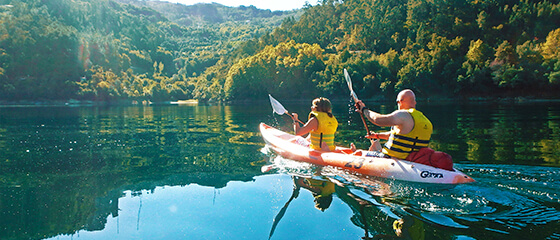 LUNCH INCLUDED

10 HOURS

PICK UP & DROP OFF INCLUDED
KAYAKING IN PENEDA-GERÊS NATIONAL PARK
Kayak in the Caniçada reservoir and start your day surrounded by stunning mountain landscapes! We provide you with a completely different perspective of the Gerês National Park with the right amount of fun…